Gennaio, 2022 –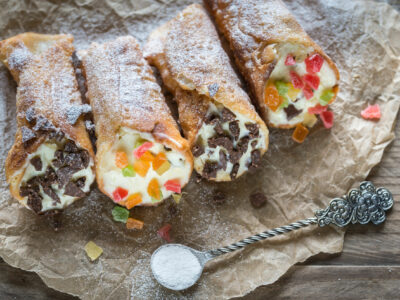 Method of preparation
Cannoli are very popular Italian desserts, being both sweet and refreshing, thanks to the combination of sweet and tender pastry and cream cheese.
The cannoli have the shape of cylindrical tubes and are filled with ricotta cream, very popular in Sicily. They can be 9 to 20 centimeters long. The name 'cannolo' is a diminutive of 'canna', which means 'tube' in Italian.
Historians say that the origin of cannoli begins in Caltanissetta, in 827 – 1091 AD. It is said that it was invented by the concubines of the princes of the time, who tried to stand out in their eyes. Another legend has it that these sweets were prepared during the carnival season and that they represented a symbol of fertility.
If you want to make cannoli at home, it is good to know that you will need the cannoli forms first of all. The rest is simple, here are the steps you need to follow:
Ricotta should be drained the night before.

Mix flour, sugar and salt well.

Add the egg and wine and knead by hand.

The resulting mixture is refrigerated for one hour.

The cooled dough is divided into four.

Set one piece aside and the rest in the fridge.

Roll out the dough well so that it has a maximum thickness of 2 millimeters.

Cut out circles using a bowl or kitchen mold.

Do the same with the rest of the pieces of pasta in the fridge.

At the end we wrap the cannolo sheets with four sheets, one at a time.

Each sheet is glued to the other with beaten egg white.

Fry the cannoli in oil for 1 minute, being careful not to burn them.

Separately, mix the ricotta with the sugar and vanilla.

We fill the shapes of the cannoli with this composition.

We can decorate them as we like with powdered sugar, fruit, jellies, hazelnuts, chocolate chips, sauces and more.

Serve cold.
Photo: 123rf.com